The Moreland SCCCCoop Issue 3
Welcome to the third issue of our new E-Newsletter
The Moreland SCCCCoop!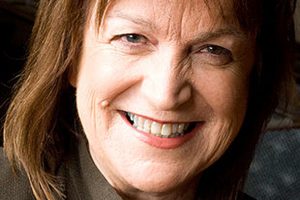 I say it every year around November, but honestly, where has the year gone?! I know many of our families feel the same way. Christmas festivities are only around the corner and before we know it some of our kinders will 'graduate', some of our babies will start walking, and we'll be preparing to welcome new siblings and new families next year. It's the cycle of life!
We always feel a little emotional saying goodbye to our kinders at the end of each year, but we're confident MCCCC has equipped them both socially and emotionally for the next chapter in their educational journey. To those families moving on, please keep in touch as we love to hear how our 'alumni' are travelling!
A few important dates for your diaries:
Tues 21 Nov: MCCCC AGM, 7.30pm at Tinning Street. All parents invited to attend.
Wed 6 Dec: Children's Christmas Party – picnic at Coburg Lake.
Thu 21 Dec: MCCCC last day for 2017
Wed 3 Jan: MCCCC first day for 2018
I sent an email to families recently thanking everyone involved in this year's Fun Run/Walk. You'll find another wrap-up in this newsletter, but it's an event that just keeps getting better and better and continues to enjoy a good amount of support from MCCCC families.
Our first twilight working bee was also well supported, with lots of helping hands cleaning, sorting and tidying up all three centres. Thank you to Adrienne and Shelley for organising the evening and to those families and staff who helped with the barbies and the working bees in general.
As this will be the final Moreland SCCCCoop for 2017, I would like to take the opportunity to thank all our families and staff for your patronage and contribution to our centres.
As you know, we are a service that encourages parental involvement – our MCCCC families' various expertise is hugely beneficial to the running of our centres and something we often plug into. From the Committee of Management to our various sub-committees, to the sharing of knowledge re sustainable practices, to participation in events and working bees etc. our parent-run model makes for a robust, engaged and community-focused service.
We strive for continuous improvement in all aspects of our service so please do get in touch anytime with any feedback or suggestions you might have.
2018 promises to be another exciting year with some significant changes in the pipeline for the way in which we undertake staff training – and there might even be some professional development opportunities and workshops run by MCCCC for parents. Stay tuned!
Finally, it would be remiss of me not to mention the historic same sex marriage vote this week. The 'Yes' vote was the majority vote in every state and territory in Australia. For me, and for many of my colleagues at MCCCC, this vote was about so much more than the right to marry; it was about recognition, acceptance and inclusion.
Families at MCCCC come in all shapes and sizes. We celebrate diversity and inclusion in all its forms – this is the rich tapestry of our service, and indeed, our community at large. We support everyone's right to equality and to a life lived with dignity and respect.
After all, human rights are rights for all.
Gill Barclay
Centre news
Lunching with the neighbours
One of our recent CEWP (Community Engagement Working Party} initiatives has been Mitchell and Tinning Streets' participation in a community lunch that takes place at the Brunswick Neighbourhood House (BNH) in Warr Park.
BNH hosts a monthly 'open table' lunch, open to anyone who can bring a plate and enjoys sharing a meal. The children bring a plate of vegetarian food to share and much of the produce is homegrown on site. Adults and children alike have enjoyed getting to know each other over a yummy meal!
Mitchell St educator Don says that "sharing a meal is a great way to celebrate our community and meet our lovely neighbours".
The children and educators look forward to sharing many more meals and conversation with BNH in 2018.
Events & fun stuff
Children's Art Exhibition, 22-25 Aug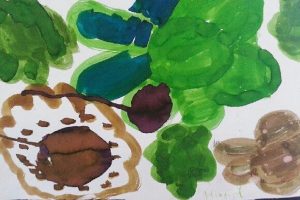 Our inaugural art exhibition was a wonderful event that showcased the creative talents of our three and four-year-olds.
Held at the Coburg Town Hall Art Space, the art work, grouped by medium and theme, was beautifully displayed. The quality and diversity of the artwork was incredibly impressive!
A huge thank you to Mitchell Street's Amanda Kimionakis, who mentored and assisted our little artists via her art program, and to Dimi who organised the logistics and helped set up and dismantle the exhibition.
Congratulations again to our People's Choice Award winners: Harry (Mitchell St) for his Picasso-inspired oil painting, Max (Tinning St) for his print-making skills and Winnifred (Dunstan Reserve) for her gorgeous Monet-inspired watercolour.
All People's Choice Award winners received a special certificate and art pack.
We're looking forward to putting on another fabulous art exhibition next year!
Photo credit: Detail from Winnifred Murphy watercolour (Dunstan Reserve).
Fun Run/Walk, Sun 22 Oct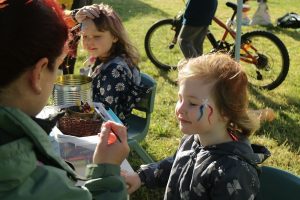 The third MCCCC Fun Run/Walk 2017 took place at our usual venue, Princes Park, on Saturday 22nd October.
Grey skies gave way to a little sunshine and our staff, families and supporters rugged up and enjoyed a brisk walk or run around the park. There were children in prams, children on scooters, children on foot – and lots of colourful silly socks!
Congratulations to our winners:
6.4km run: Stuart Lovejoy (Tinning St relative)
3.2km run: Phil Bennett (Tinning St)
3.2 km walk: Mira and Sophie Keleher (Dunstan Reserve)
All winners received a prize, bouquet of home-grown bay leaves (thank you Jen Lovejoy!) and trophy.
The silent auction and raffle were popular and well-patronised – thank you to all those who bid and bought tickets, and of course, to those who donated prizes.
There are many people to thank: our MC Chris Fitzgerald, who kept the proceedings moving along nicely, Sporty Paul and Dancing Sue, for warming us up and keeping us entertained, Alick Weber for his enormous help with the silent auction pre-bid sheets and silent auction on the day, Adrienne Smith and the Community Engagement Sub-Committee, for all their planning, organising, meetings, picking up, dropping off, setting up, packing up etc. Angelica (Tinning St) and her 'cooks and servers' also did a wonderful job with the breakfast offerings this year!
Thank you to each and every person – MCCCC staff, families, supporters, small businesses etc. – who supported this year's fun run. We are so very appreciative.
And we hope to see you all strapping on those trainers again in 2018!
Out & about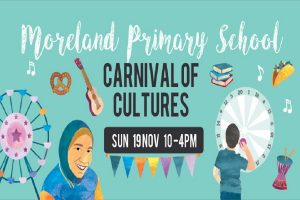 Moreland Primary School is holding its bi-annual fete, the 'Carnival of Cultures', on Sunday 19 November.
This year's fete is all about global food and music, with 10 international food stalls serving entrée sized meals at $4 so you can travel the world with your tastebuds!
There will also be carnival rides, marketplace stalls, sideshow games and lots of activities.
The school is also offering a special 'pre-school' rides pass for children (Tiny Tots Pass), which they say offers great value for families.
Click here for more information or to purchase passes.
Sustainability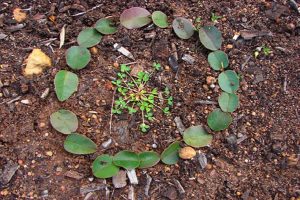 This term we have been very busy furthering various sustainability initiatives.
All three centres have now completed the core module of ResourceSmart. Sustainability Victoria is currently assessing Dunstan Reserve and Mitchell Street however I'm pleased to report that Tinning Street has been assessed and awarded a star! The ResourceSmart initiative focuses on four main areas: biodiversity, energy, waste and water.
Congratulations to Mitchell Street for their efforts!
Below is Bianca Piscitello's (MCCCC Sustainability Officer) sustainability wrap-up:
Waste module
We are beavering away at completing the 'Waste Module', due for completion by the end of term four. The kindergarten children across all three sites have been conducting waste assessments each week, monitoring and recording the quantity of waste produced.
We have worked diligently to reduce our use of electricity, paper, water etc. and have made some major savings over the past 12 months:
Tinning Street: $65.99 per child
Mitchell Street: $7.06 per child
Dunstan Reserve: Sustainability Victoria is currently working to resolve an issue with the formula and data for this centre. We'll keep you posted.
Compost bins
We have just received two new compost bins for installation at Dunstan Reserve. Our three compost bins will now support the composting needs of all three centres. We are very thankful to have an awesome cleaner (thanks Jim!) who will transport compost from Tinning and Mitchell Streets to Dunstan Reserve.
Biodiversity
Dunstan has been actively engaging with the natural world and utilising the community garden and surrounding parkland to extend its knowledge around biodiversity. In particular the three-year-old group has been learning about the various components that make up a plant and the role bees play in our environment.
PD with CERES
CERES has been a fantastic support helping MCCCC work towards our sustainability goals and we look forward to welcoming them back in the New Year for some professional development on 'Energy', which will coincide with the commencement of the 'Energy Module'.
Industry info
'Sleep and rest' policy now mandatory
A number of changes to the National Quality Framework took effect on 1 October.
One of the most significant changes is that early childhood education services must now have formal "policies and procedures on sleep and rest for children and infants". (Regulation 168 of the National Regulations.)
The new requirements follow the inquest into the death of five-month-old Indianna Rose Hicks, who died from SIDS at a family day-care in Queensland in 2012.
MCCCC's policies on sleep and rest for children and infants is comprehensive and clearly stated in our Policies and Procedures manual, which can be found on our website at https://www.mcccc.com.au/our-policies
Children must be placed on their backs to sleep and staff are now able to enforce 'Red Nose safe sleep practices', even if it's against a parent's wishes.
The new practices apply to long day care, family day care, preschool/kindergarten and outside school hours care services nation-wide – except in Western Australia where they will come into effect in 2018.
Source: Australian Children's Education and Care Quality Authority
New childcare package
The Government's new childcare package will come into effect on 2 July 2018.
Under the new package, the existing Child Care Benefit and Child Care Rebate will be replaced by a new Child Care Subsidy.
The amount of subsidy that families will receive will be based on three things: combined family income; the level of 'approved' activity undertaken and; type of child care service used.
The easiest way to work out how much subsidy you may be eligible for is through the Family Child Care Subsidy Estimator, which is available here.
Three family webcast information sessions will take place on Wed 22, Thu 28 and Thu 30 November, for those who would like to learn more about the changes and how it will affect their family. To check times and/or register, click here.
Parenting info
'Queenie's Little Book of Comfort'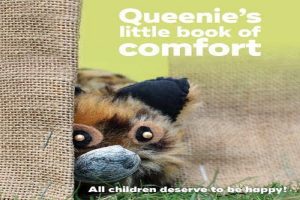 Family violence is, unfortunately, a reality in many Australian households.
Two early childhood educators have written a picture book to help young children living with family violence better cope with the chaos and upheaval.
Based in Tasmania, Judi Rhodes and Tanya McQueen say that family violence damages children's lives. As early childhood educators, they have seen firsthand the damage and trauma caused to children who live in volatile households.
'Queenie's Little Book of Comfort' aims to give children tools and strategies to help them manage when domestic life is frightening and unpredictable.
Queenie the quoll is taught simple strategies to self-calm whenever life feels stressful. The book, which the authors say can be used as a conversation starter for adults and parents of young children, features hand-made Australian native animals.
To listen to an interview by the authors on ABC online, click here.
The book can be ordered online via Fuller's Bookshop.
Source: CareForKids.com.au
Meet a Centre family!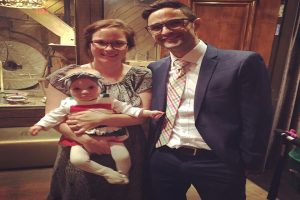 Rhea Longley and Timothy Cole, parents of Amelia (Dunstan Reserve)
"We are in love with Dunstan Reserve. I had a hard time adjusting to the thought of Millie going to childcare so young, but everyone was so understanding, friendly and helpful from the minute we did our first tour."
Rhea says:
"Amelia (Millie) is our first child – she's now almost 9-months old! Tim is a high-school science teacher in Essendon and I'm a research scientist at the Walter and Eliza Hall Institute of Medical Research, near the University of Melbourne
We moved to Melbourne at the start of 2016 and live about two minutes walk from Dunstan Reserve in Brunswick West (so the location of childcare is perfect for us!). Tim is originally from Ballarat and I'm from Tasmania – we met whilst studying at UTAS.
Before moving to Melbourne, we spent two years living in Thailand for my work on malaria, and before that spent the previous four years living in the UK whilst I did my PhD.
We love travelling and everything outdoorsy. Luckily Millie seems to really like being outside too! At the moment, we love to just go to the park, go for walks, and go out for coffee.
We recently took Millie on her first overseas trip to Canada for the wedding of some close friends, which was a big adventure. We had a fantastic time, but think we'll stick to locations closer to home for a little while now!
We want to raise Millie as someone who values other people and the environment, and always tries her best with whatever she's doing. As much as it's a cliché, we feel that if you're getting all that in place things are hopefully going to be ok!
Our major goal for the next few years is just to enjoy watching Millie grow and explore, and to hopefully get some more sleep!
We are in love with Dunstan Reserve. I had a hard time adjusting to the thought of Millie going to childcare so young, and everyone was so understanding, friendly and helpful from the minute we did our first tour. Millie's educators are fantastic and have really helped her settle in beautifully. Being first time parents, Tim and I are also learning so much from them as well!"
four centres, one community
Both of my daughters have attended Mitchell Street and loved it there. When my second daughter started, the family grouping allowed my older daughter to be with her as she was adjusting to the new space. It was good peace of mind to know that they had each other during the day whilst I was working.
- Michelle, Tinning Street
Both of my daughters have attended Mitchell Street and loved it there. When my second daughter started, the family grouping allowed my older daughter to be with her as she was adjusting to the new space. It was good peace of mind to know that they had each other during the day whilst I was working.
- Michelle, Tinning Street